Post by malcolm on Feb 6, 2011 17:55:44 GMT -8
August 21st, 10:30 pm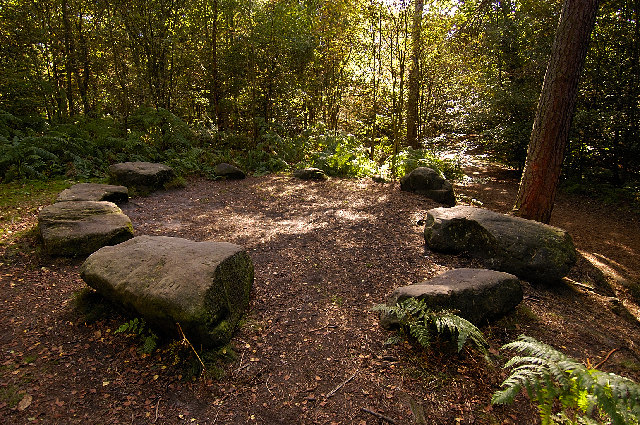 The dark night was laced with silvery tracings upon the leaves of the forest. The stones surrounding Malcolm were not yet filled with seated observers, but if he was correct in thinking that the half hour was near, they soon would be.
He stood, relaxed, at the center of the circle, waiting. His figure, already tall, was made mysterious by the dark blue, hooded cloak he concealed himself in. The hood would be kept up, tonight. Who knew if their missives had been intercepted? A mild Laryngus spell had changed the quality of his voice enough that when he spoke tonight, none would be able to trace the sound back to him after it wore off. Tonight, he addressed the Order as Hal Jordan. Alexi was here, similarly dressed. He was going to be addressed as Luthor. The pair had been working on a plan ever since their former safe house had been attacked. It was too dangerous to meet there again. It was time for him to step up and take command.
One by one, they arrived. He waited in silence until the circle was filled. His voice was a deep rasp as he addressed them. It sounded otherworldly and almost draconic.
"I don't need to tell you why you're here. Our safe house was destroyed, and we are on the very brink of losing this war. Now, now we need to fight. We have never been so low, and they expect us to either get smart and disappear, or be so disorganized that we cannot fight back. The time to strike them, strike at their heart, has come."
He began walking the circle, taking in the hooded figures in a calculating glance. Was there a betrayer among them again? Who knew?
"The Ministry building itself has a weak point that we shall exploit. A great number of our people were captured. Recent intelligence suggests that they are being held there, rather than Azkaban, since the successful breakout earlier this summer. We shall send a message to them and get out own back. Volunteers are needed who either know the building, or are willing to fight their way out. We shall be taking a great risk with this."
He paused in his pacing and sighed.
"This shall be, like the strike earlier in the summer, a two pronged attack. The utmost care will be needed with the second portion, and I need skilled individuals to talk to me after this. I'm tired of being falsely accused of attacking civilians, or being blamed for random acts of terrorism. I am also tired of the blood status nonsense that sends the message that anyone less than halfblood is unworthy of learning to use their magic. The Hogwarts Express is a very soft target, and I intend to exploit its weakness. There won't be fatalities. I guarantee that."
He began walking again.
"And, because of the way we were betrayed last time, details shall not be given out about these operations. Only those entrusted with the mission will know their part, and should they talk to anyone about it who is not a part of the operation, there will be consequences. Are there any questions?"